For What It's Worth
When Mike and Jenn first met, they would talk about what they wanted out of life. They wanted to live in a country setting, they both wanted kids...that kind of stuff. Jenn said she wanted 3 kids, and that she wanted to be able to stay home with them. Mike said 3 was a bit much for him (different post entirely) but that he would love for the mother of his children to be able to stay home. And then they would smile because they were so in sync and perfect for each other. The sun beamed down on them and angels would sing.
Jenn Said:
Before I was pregnant, Mike and I lived together in an apartment. The rent was so cheap that Mike paid for everything with no problem, and my entire paycheck went into the bank to prepare for our future. We weren't married, but we knew that we wanted to share our future together, so it just made sense. Then I got pregnant and we were so happy, but plans started going into overdrive. We started thinking about where we lived and that it wasn't really conducive to having children there (the area, not the apartment). So we decided to just, ya know, look at houses. We weren't in a rush or anything....just curious. Of course once we started looking we got sucked into the real estate vortex and the only way out was to buy a house, NOW! We found a house that we loved! Great neighborhood, lots of bedrooms, just so much for our money. We were hooked! It was a little above our price range (which oddly enough grew higher and higher as we were looking). I was pregnant (like HUGE pregnant), and would love to bring our baby home to a house.
*Insert Life Altering Turning Point Here*
Mike: You realize that if we buy this house you won't be able to stay home with the baby, right?
Jenn: Yea, I know. It's ok.

WAIT, WHAT? IT IS? Ummmm!!! NO IT'S NOT!!!
I was pregnant, what the hell did I know! I was stupid; I didn't know anything about parenting (even though I thought I did). I was the one that said stuff like, MYYYY child was never EVER sleeping one second in MY bed......HA HA!!!!! All I knew is that I wanted that house! Instant satisfaction! Deal with the repercussions later, right?
Well, HELLOOOOOO Later!

So now, even though I said it was ok that I was gonna work, I don't want to work. I want to be home with Allie. I feel like I'm missing the best part of her life. I want to start trying to have another baby sometime within the next 6 months or so, and I want to stay home with that one too. Because paying for daycare for both of them, I might as WELL not work anyway. So why is it that even though we both were so in sync before all of this: I wanted to stay home, he wanted me to stay home; do I now feel guilty for wanting to stay home? Damn that mommy guilt!

I think it's a couple of reasons, and I think they are pretty valid.
I don't want all the financial pressure to be on him.
I feel like I'm sending him out to slave in the work force while I'm having fun playing with blocks!
Cause now I'm going back on my word that I was gonna work. And if I do that, we would have to sacrifice living the way we like to. Also, so I can stay home and play with Allie.
I KNOW I KNOW it's more than staying home and playing. However, she does like day care now, and most mothers work these days. So why am I making a big deal over it? For some reason I just feel like a failure for wanting to stay home....like I can't HACK the working mom thing, so I'm going to force my husband to do MORE so I can do LESS, and he doesn't deserve that.
Of course, then there's always the thing, that once I go through ALL of this to be able to stay home, what happens if I hate it??!?! I guess I'll jump off that bridge when and if I ever get to it.


Mike Said: OK, I do want Jenn to stay home with Allie. I don't know why she's so worried about putting more of a burden on me and feeling guilty about it. I knew what was eventually going to happen. If we were going to have a house in a safe area, multiple kids (which means 2 to Mike & 3 to Jenn) and have one of us stay home with them, we were going to have to make sacrifices. I recently got a new job, which pays me more money, but not enough to support us in our current lifestyle. Sure, if we stayed in the apartment, we could live how we're living now, but be in a crappy area, and having Jenn not feel comfortable enough to walk outside with the baby is NOT worth it.

Once our car leases are up, we're just going to not have 2 brand new cars anymore. I know both of us used to work for a car manufacturing company (where we met) and drove $35k - $40k cars every day, but we're going to have to just learn to except driving around in a 1976 AMC Pacer! (ok, that's a bit much, but you get the idea). We already have numerous nice TV's (cause I also worked for a TV manufactuer), a decent amount of new furniture, some (not a lot, but some) savings, and no credit card debt, so we're in a decent place for us to start to figure out a way for Jenn to stay home. (I say Jenn stay home, not because it's HER role, but because I happen to make more than she does. If the roles were reversed, I'd be the one to stay home.) We would probably figure out a way for her to work from home in some fashion (at night or whatever), so she'd still be helping with the bills. Not even to mention that she'd be taking care of the house and most importantly, our child(ren). I knew this before we got married, and am totally fine with it. No more fancy vacations to the Caribbean or Las Vegas anymore. Instead we're going to have to go camping, and maybe take some local trips to the Jersey shore, but as long as I'm with my family, I don't care.

Daycare is a great thing because it allows kids to learn social skills, but we do know people that have kids, so she can still learn to interact. Once we have our second child, she's going to have to stay home. There's no way we can afford $2k/month in day care. I won't be doing any more than I'm doing now. We'll just have to make sacrifices. Is my family worth it? DEFINITELY!!!! And more!!

Don't worry Babe, we'll figure it out and we'll be fine.
**********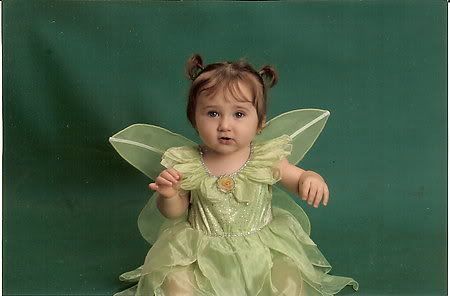 *Sprinkles fairy dust to make her parents stop freakin out for no reason*
Labels: Mike and Jenn