Who are these people?
John and Jen
Top of Page
Okay, I'm John. Also known as "Daddy" to my two adorable kids, and "Honey" to my crazy wife (as in "Honey, do this", and "Honey, do that").

I don't have a whole lot of experience with blogging as of yet, but maybe contributing to this site will change that. Heaven knows that I've got enough material on just my wife's looney antics to write an entire book!

I spend my days trying to strike a good balance between family life and fantasy football. However, my wife would rather that I balance household chores (like putting away my laundry, and taking out the trash) instead. Man, am I ever-thankful that I have her in my life to set my priorities straight!!! So, because I am a self-proclaimed, and aptly labeled, Fantasy Football Addict I am seeking therapy in order to save my marriage. Everything would be just fine if she would just give in and join me on this annual celebration of testosterone. Either that or she should happily pay for my therapy sessions. I mean, ya can't have your cake and eat it too is what I always say.

The best piece of advice I've received in terms of being married? Always reply with a "yes, Dear" and be done with it. Far better for you to let her go about her merry way thinking she's right than prepping for the onslaught of WWIII. Besides, in the grand scheme of things we all know who's Boss! Right?


Hi, I'm Jen; the better half of "John and Jen" (at least here on "Dad Said Mom Said" anyway). Just kidding. Wait, no I'm not! Anyway, I enjoy writing and always have, except when I'm required to write a bio. Then all of a sudden I can't think of anything interesting to say. So, please forgive me if you start to snooze.

I'm half Filipina, and half German; in my mid-thirties; have been married for almost four years now, and have two amazing little ones anybody could ask the stork to bring! I started blogging only a few months ago because I needed an outlet for all the things I was going through during my second pregnancy. I wish I had taken it up during my first because those sure were cu-rrrraaaazzzy days!

I love all things chocolate (dark preferably) and am severely sleep-deprived, which makes for amusing antics on my part around our household. Not a day goes by in which my hubby and I have conversations similar to this:

Me: "Honey, didn't I tell you to (insert a household chore or errand here)?"
Him: "Uh, no."
Me: (a little perturbed already because I know I did) "Um, yeah, I did. The other day? When you were watching (insert any sports-related program here)? I specifically remember because you even nodded your head."
Him: "Uh, no. I wish you would stop believing that I can read your mind. You never told me and are completely making it all up because you don't want to admit that you forgot to tell me."
Me: "Well, why is it that I have to tell/remind you in the first place?!"
Him: (sigh)

See?! We're perfect for this site!!
You can go visit Jen at her blog: Mama's Moon.


Mike and Jenn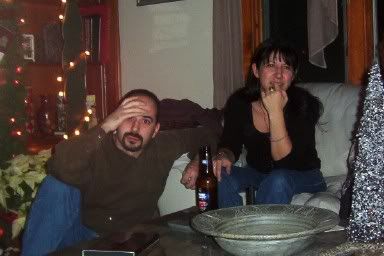 Well, this whole blog is my idea and I annoyed everyone to hurry up and give me their cute short and funny bios, oh and don't forget that picture!! Meanwhile I can't write my own, let alone the fact that my wonderful husband told me: It's ok, you can write a joint one for both of us! *smile* Oh it's ok, huh? Great! Thanks!
Well basically 2005 was a pretty big year for us. We got pregnant, got married, bought a house, and had a baby....in that order. Insta-family! Truthfully it's been wonderful. We've been friends for a long time, and it just all seems right.
We are total rookie parents, and we like to think that we know what we are doing, since we both had little brothers we took care of, but really we have no idea. We really don't fight, but their are some, ya know, quirky things about us. I spend too much time on the computer. He talks about cars way to much. I get sucked into the TV and don't listen to him. He's a neat freak. I have too many clothes on top of my dresser. Everything for him revolves around movie quotes (actually I'm a bit like that too) But hey, who ever said a Dead Head and a Metal Head can't fall in love?
What we do agree on, and what is most important to us is our daughter. How are we going to raise her? Well, we're still working on that.
You can go visit Mike at his blog: Cannonballers and Jenn at hers: Maniacal Days
Warren and Jennifer
Hi. I'm Jen and this is my wife, Jenn. What? This isn't the JenBlog? Oh, I have been so misled.

Actually, I'm Warren and, yes, my wife's name is Jennifer, which is why I think we've been invited to join everyone here. That and the fact that we have two children may have been a contributing factor. Maybe. I have been asked by my wife to contribute our bio for this site and, of course, I was more than happy to oblige. I love writing about myself. All the time. It's all about me. Me, me, me. Who am I kidding? We have children. It's never about me anymore. Hell, it's never about us anymore. It's all about the children.

Yeah, that's something I can get behind.

Jenn and I have been together since 1998. We like to tell people we met at church, as it lends an air of respectability to our relationship. We're both Catholic school grads so it sounds possible. Truth is we met at a bar and not a classy bar at that. I think if they could have surrounded the stage in chicken wire they would have. Patrick Swayze just might have been a bouncer there.

We were married in February 2002 and moved to Connecticut in 2003. Eager to put our jet-setting ways behind us, we had our first child, a son, in June of 2005. Oh, what an interesting birth that was. I won't bore you with all the details here, but suffice to say a pregnant woman's blood pressure should never have a systolic starting with a '2' and you should never hear the words 'seizure,' 'kidney failure,' or 'swollen liver.' No warm and fuzzies there. Number two, a daughter, was a breeze (he says as the one with testosterone and no uterus) since the doctor elected to forego the remaining two weeks and deliver early.

So, that's us in a nutshell (why do I always picture Austin Powers after saying that?). I'm sure you'll learn more about us as we start posting here – probably more about us than you'd ever want to know.

Jennifer can be found at Mrs. Big Dubya and Warren can be found at Mr. Big Dubya and at DadCentric.

Brandi and Ethan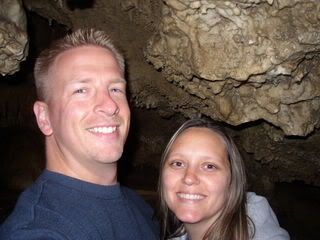 We are high school sweethearts (don't gag) and have been together for 15 years, married for 8. We have an almost 2 yr old named Ryan who makes us smile and pull our hair out everyday. I am a SAHM, which is something I never thought I would be. When I say I, I mean Brandi, since I'm the one writing the bio. That's just how stuff gets done over here. We are native Californians, who have lived in San Diego (love and miss it) and the central valley. Don't ask where that is cuz you really don't care. We are now back in the town where we were raised and we LOVE having our family around to baby sit.

Ethan is an engineer. I'm going to leave it at that because anymore talk of lasers and fuel cells might kill me. I will say that engineer-ism seems to be in the family and its in his blood. Ethan is obsessed with cars, but I have a CR-V. Something is wrong with this picture. He is a terrific husband and father, and as long as he isn't playing World of Warcraft while Ryan is awake, then all is right with our little family.

I have a degree in English, and taught high school, and then I worked at a law firm. I've never had a job I truly loved (being a mommy is not being counted in the list). Ryan and I belong to a local playgroup and get out of the house as much as possible. I love to read, especially historical fiction, or anything by Jane Austen. I'm trying to get back into scrapbooking, and am trying to exercise more. I hate to cook, and am still recovering from one year of no consecutive sleep.

Brandi can be found at The Family Whistle.

Labels: About Us